In today's dynamic market environment, nothing should be left to chance. Marketing, branding, merchandising, trade-marketing or strategies of any kind must be based on market data to be truly effective.
FMCG/CPG and Pharma players, whether importers or manufacturers of food, beverages, personal care products, household cleaning products, medicines or dietary supplements are responsible for establishing marketing strategies.
Companies remain connected to market reality by implementing these strategies in sales points, in defining targeted indicators and market data collection by field teams made up of Sales & Trade-Marketing representatives. Therefore, there can be created new trends that add value to customers and bring profit for company shareholders.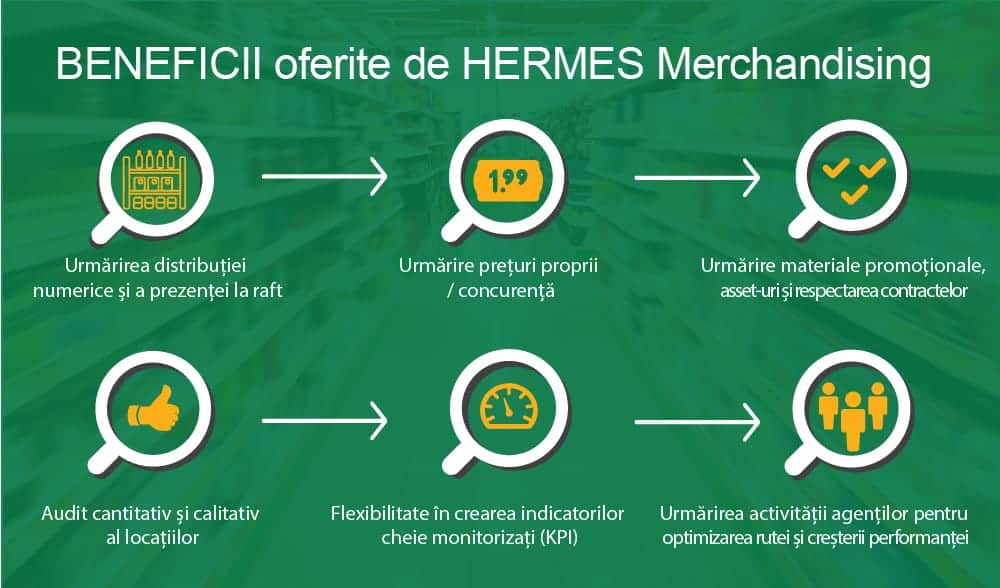 HERMES Merchandising features, advantages and benefits

Collect data about your own products and those of your competitors that are useful for analysis, forecasting and generating trade-marketing and sales strategies by:
Tracking numerical distribution and presence
– Presence/coverage of products in the market both for your own products and for those of competitors (food products merchandising). The app allows us to find out the number of locations our products are present in, in which of them can be found both our products and the ones of competitors, as well as the ones where only the competitors are present. This information is useful to enter other locations where our products are missing in order to increase our market-share.
– Check and control of stocks in the grocery store to avoid stock shortages which equals to losses for us. Check why there is nothing left in stock and take preventive measures for out-of-stock (instant order taking for OOS).
– Tracking products that are listed in the market (products contracted with Key Accounts/IKA, if they are present it is ok, otherwise action is taken)
Tracking own/competitor prices

Collecting price information. It checks:
if the selling price is close to the contractually negotiated distribution price and if promotional prices are respected
data about competition prices
Based on this information, the pricing policy, discounts and price alignment are established if necessary.
Tracking promotional materials, assets and compliance of negotiated contracts
Tracking the presence and use of promotional materials (POSM) both low priced (lighters, t-shirts) and higher value (Assets / fixed assets), contractually agreed, fridges, tables, dispensers, large umbrellas, displays.
As for contract compliance, it can be monitored:
a negotiated percentage (x%) of presence of own products on the space dedicated to a product category;
compliance of the standards and contract period regarding secondary placements implemented in shops, supermarkets.
Quantitative and qualitative audit of locations
Check the size of the shelf space that has been allocated;
Number of sides
planogram compliance;
Compliance with marketing standards set by the manufacturer at the point of sale.
Flexibility in creating monitored key performance indicators (KPIs)
The major FMCG/Pharma manufacturers, usually the top brands, are in a constant battle on various marketing fronts, to influence the final customer to purchase their own products, and the very last place where they can do anything about it is in-store, mainly in large international retail chains (IKA).
For this, a number of indicators are monitored including: numerical distribution, secondary placements, market share, used shelf space, price competitiveness, location according to auditing standards, compliance of retail locations in terms of manufacturer's contracts.
Tracking agents' daily activity to optimise routing and increase performance
Offline usage. HERMES allows data to be collected even if there is no Internet connection (offline) and transmitted to server when technical means allow, by initiating the synchronisation process.
GPS coordinates. HERMES facilitates the monitoring of GPS coordinates that indicate agents' followed routes and visited locations, by displaying them on the map . There is also a setting in the app that if enabled, makes it easier to block the agent from visiting if they are not within 50 meters of the location.
Photo capture directly in the app. Integration of photos showing the presence of products, arrangements made, product details – to be more easily identified by agents, product catalogues and taking photos in targeted locations. In the case of contracts, tracking of on-site assets (display cases, dispensers etc.) and/or if discrepancies arise, photographs are taken as an evidence of the findings (monitoring of merchandising activities on the shelf).
Supervisor module – allows the monitoring of all agent's activity in the field by applying type questionnaires:
Controlling – the agent's response versus the supervisor's response on same locations is checked by comparison, calculating the degree of matching. In case of a large difference, e.g. 50% matching, the supervisor may penalise the agent for false data.
Coaching – visit made by the supervisor along with the agent on his/her route, in which the quality of some behaviours, attitudes, practices of the agent are noted (e.g. respecting the 5 steps for the visit, being careful with collected datas, good relationship with the location etc.). If certain points are deficient, the supervisor will be able to organise a coaching session with the agent to improve these aspects for improvements to be seen at the following visit.
Monitoring – completion of a questionnaire by the supervisor together with the agent, monitoring representative's daily activity. For example, if he follows protection rules, drives carefully, respects the route, respects work schedule, takes care of the equipment and vehicle, makes the company look good through his behaviour etc.).